Ralph and Rob's progress is being tracked on noforeignland.com. Once in, click "follow" to follow.
Ralph sends accounts of each day which I'm updating on this page.
– Lisa
Day 10: Bilge Pumps and Other Nautical Miscellany
Wednesday 19 January 2022
Time of readings: 13h05
Lat: 22, 25.1N
Long: 33, 17.6W
Wind speed: 10.9
Wind direction: N
Distance travelled (nautical miles): 1,173
Sea State: 1.0 (swell), 0.5 (chop)
Course over ground (magnetic): 270
Ostrofsky's Glaxometer reading: Dial has fogged over so we are unable to take a reading today unfortunately. We will endeavour to make a repair as soon as the sea state allows our technician to do so.
Decent night.
Usual cocktail of watches.
07h48: 8 knots of wind, beautiful cloudy sky – always looks different – without fail a treat to emerge from below deck. Lots of flying fish – usually going the same direction as us.
Squalls to the north.
Aiming now for St. Maarten, roughly at 270 degrees, which is due west. We're on a starboard tack and a beam reach, i.e. the wind is 90 degrees to us – coming from the north.
Because we've ducked away from the low and now hitting the trade winds, it might be like this for the next several days.
09h00: 12 knots – Rob asleep below. Lovely sailing conditions – beautiful reach.
Apart from Rob spotting a satellite, we've seen no other evidence of any other humans for approx. a week. Not a vessel on the water nor anything in the sky. No planes.
10h00: Rob still asleep below. I've been up here on watch, which means reading and napping. Red Rock is flying across a flat ocean at 7 knots – very comfortable – perfect temperature – truly heavenly.
10h26: Rob woke up and decided to replace the fanbelt on the boat's engine. It was making odd noises early this morning when he ran it to charge the batteries. It took him 20 minutes to find the fanbelt and 3 minutes to replace it.
I carried on napping and reading.
10h44: The manual bilge pump is blocked. So Rob is now constructing and electric bilge pump out of things he's found on the boat:
A coat-hangar
Plastic piping of two different diameters
A walrus tooth
A comb
Part of an old violin
An electric pump
Lots of rummaging, cutting, splicing and sawing going on below me whilst I was trying to nap. Once the contraption was completed, we took it the bilges in the front cabin to test. And if you don't know what a bilge is, I feel sorry for you.
The moment the pump went in the water, it fused the electric circuit. So that was not a successful mission. We'll need to keep emptying the bilges by hand.
Brunch: Toaster pumpernickel, avo and fry deggs.
Deggs # 25, 26 and 27 were eaten.
We have 9 left.
#28, 29, 30, 31, 32, 33, 34, 35 and 36.
4 lemons left.
15h30: The wind has dropped to 9 knots and the sea is bumpy. Red Rock is bouncing around like a
boat in the middle of the Atlantic in a 9 knot wind. Several months ago, whilst in the hot-tub, I taught Lisa and Bea the NATO alphabet. You know, A for Alpha, B for Beta etc…
A few days later I heard Lisa on the phone to an airline (if I recall correctly). The line was bad so Lisa was encouraging the lady on the other end to use the NATO alphabet.
I heard Lisa saying "ok, C for Charlie" and then "ok, J for Juliet", and then I heard her say:
"E for I? E for I?"
What had happened is the lady on the other side needed to think of a word for the letter E. The most logical word was Eye. E for Eye!
Lisa and I found it hilarious.
When I told this story to Rob, he being Lord Admiral of the very vessel on which we now sit, and being, therefore, by necessity, a frequent user of radio communications, also found the E for Eye a most hilarious concept, and roared with laughter to a point where I thought something on the boat might break.
We've tried to come up with E for Eyes of our own. So far we have:
G for Gnome
K for Knife
M for Mnemonic
P for Pterodactyl
S for Sea
T for Tchaikovsky
and
W for Why
If you can think of any others, do let us know. It's fun trying. The aim is for them to be completely confusing in a radio communication.
I'm pleased to report that the Potential MCS (Melon Crisis Situation) mentioned yesterday has been completely averted. Today's inspection determined that our one and only melon was in fact perfectly ripe and we subsequently ate some of it. Both very much aware that our days of perishables are soon drawing to a close.
17h29: Moonrise
17h45: A squall from the north has hit us – 15 knots of wind. So it is suddenly fast and bumpy.
18h00: The weather.
Me: "It's all we talk about."
Agrees Rob: "It's all that matters."
18h15:
Wind speed 14.6 knots (N)
Our speed 7.6 knots
Cloudy, squalls
Bearing: 290
Fore-cabin creak ratio: 9.55
19h00:
Both standing up on deck watching the sky.
Clouds everywhere.
Except up ahead, a wedge of orange sky on the horizon, under a large dark stretch of sky. Now we focus on the wedge. If we bear up 5 -10 degrees we can make it straight through it.
Hope far away is it?
40 miles – so we'll be through it by sunrise?
10 miles?
1 mile?
Impossible to tell.
What's on the other side of it?
Clear skies or more scattered clouds?
More wedges perhaps?
Wedges beyond wedges until the horizon.
The horizons beyond horizons, all with wedges, till infinity?
How wedgified is it as we get closer?
Is it a trick of the eye?
Is it a sharp wedge or indiscernible as we get closer?
We watch it and discuss it for the next hour. It's pretty-much all we talk about. We both become TWEs (Total Wedge Experts).
Known as Wexperts in some circles.
The wedge draws nearer.
Then darkness descends.
We can no longer discern the wedge, as the sun has gone completely. Clouds melt into the darkness of the sky.
20h00: Rob goes down to sleep.
20h30: Suddenly stars everywhere. We've pushed through the wedge into a moon-drenched, cloudless sky.
Far up ahead, 1,500 miles away, St. Maarten beckons.
Watches:
Rolff: 8.00-10.30pm
10.30pm-1.00am: Rob
Rolff: 1.00-3.00am
3.00-6.00am: Rob
Rolff: 6.00-9.00am
9.00-10.00am: Rob
Note from Lisa: Where Ralph is right now (below)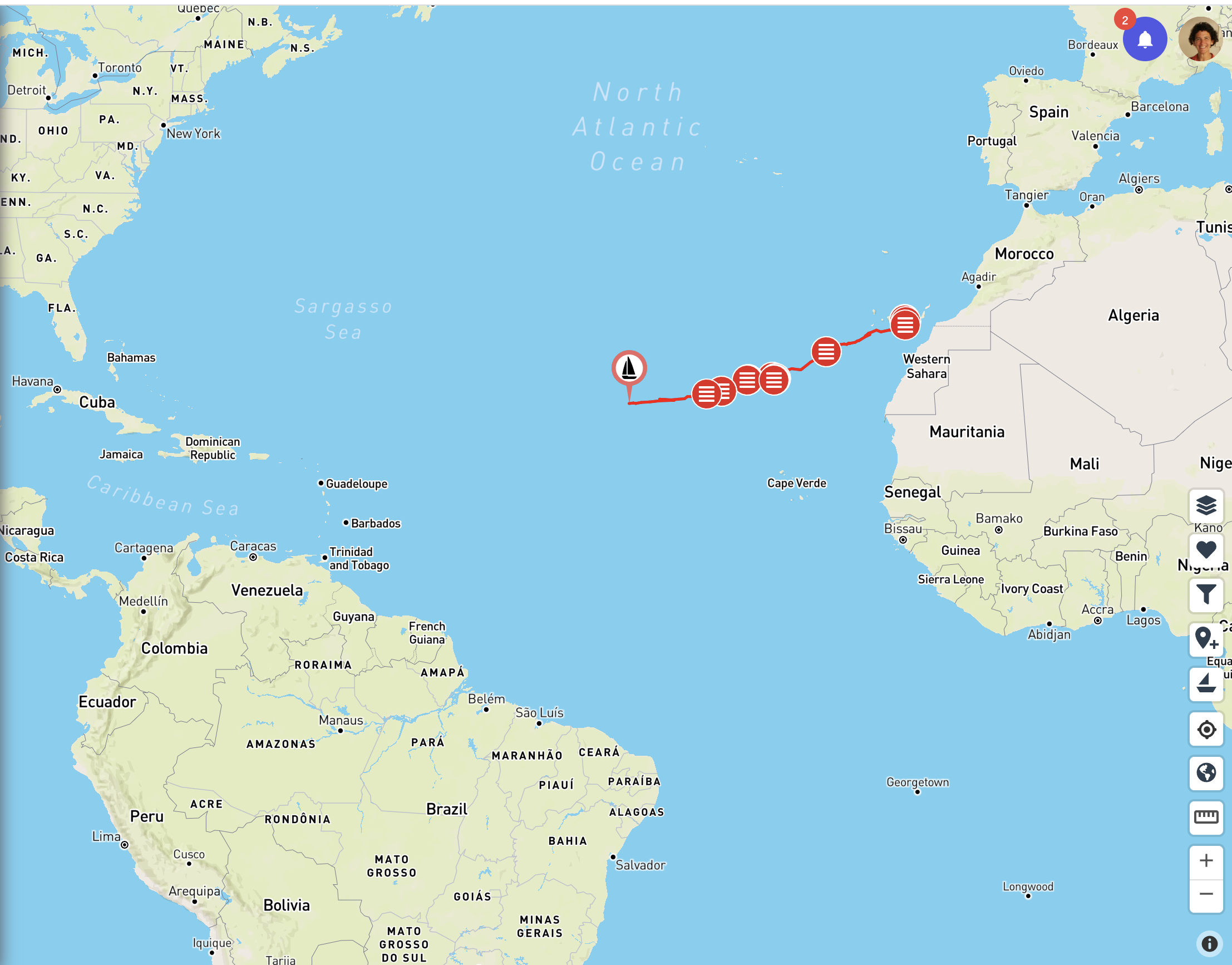 But what the hell was going on here?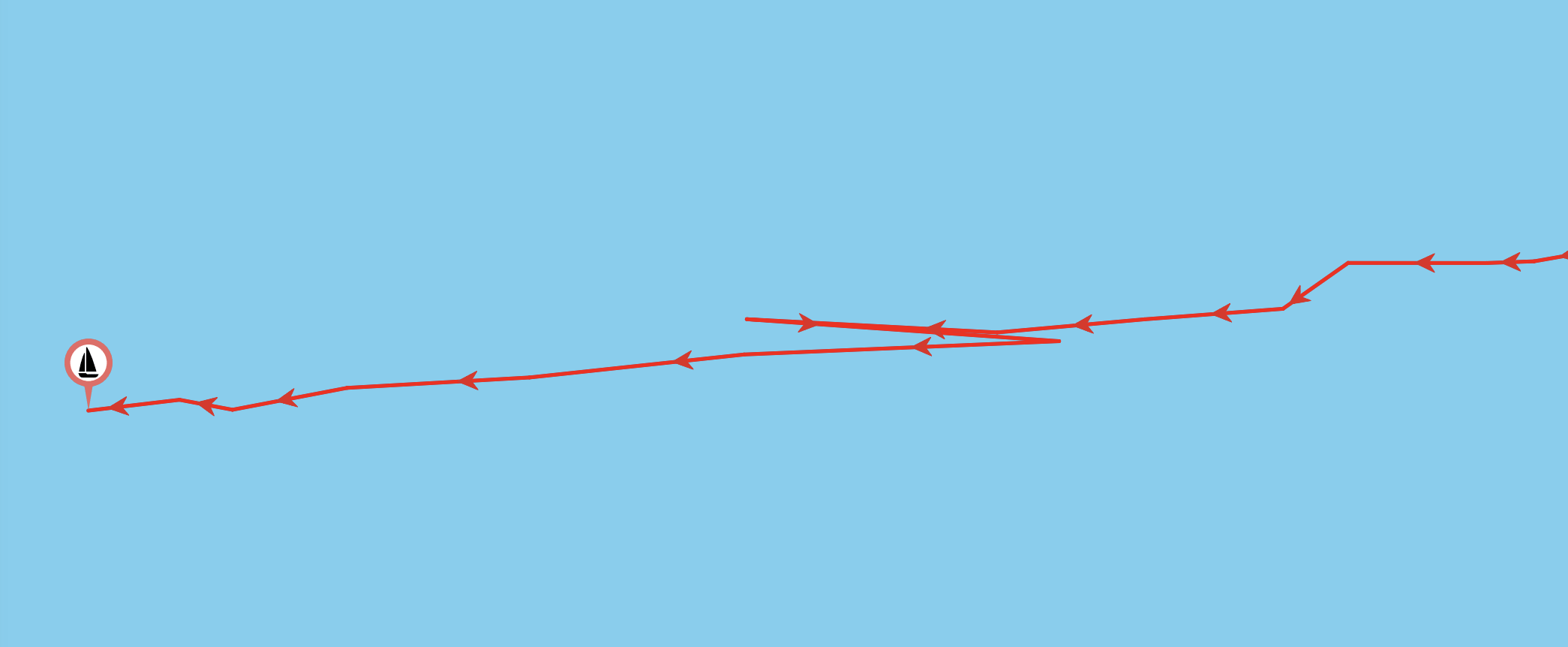 ———-
Day : 9 – Rainbow Alley
Tuesday 18 January 2022
Time of readings: Noon
Lat: 22, 57.8N
Long: 32, 42.1W
Wind speed: 8.1
Wind direction: North
Distance travelled (miles): 1,072
Sea State: 1.0 (swell), 0.5 (chop)
Course over ground (magnetic): 298
Hemple Valve Rectification Status: Blue
Glandulator Coefficient: 66.1 (magnetic)
Waloon Snodometer Reading: 0.137
Note to readers: These dailies are not edited – I just write them down and by the end of the day were usually too busy or it's too bumpy to read through them.
Watch status: Last night I did the first three hours and then Rob did the next six. He's just woken me with tea and two Madelines (those cupcake things) to watch a simultaneous moon-set sun-rise. As per usual, a stunning start to the day. Lots of clouds in dark clumps on the horizon (360 degrees) but few above us.
Horizon clouds mean squalls that we'll need to navigate, plus messy wind.
The wind right now is light and variable and we're moving slowly, at around 3 knots, so the boom is swinging a bit, and groaning.
9 days in, and we've found our rhythm.
There are two constants: The sailing, and watching the weather.
The sailing, the actual act and fact of sailing, is what has been so surprising and brilliant. It is one of the many things Rob and I have in common; the simple joy we get when we feel the wind powering us over the water – when things suddenly feel right – when Red Rock suddenly stabilizes, we bear off and speed up – when there's a slight shift and we feel it and point higher.
For any of you who don't sail, it's like that feeling you get when you're starting off on a run down a ski slope, or you're body-surfing and a good wave catches you.
Sometimes we have the magic for a few hours, sometimes most of the day, and often at night. When we're raised from slumber by the vibrating of a boat that is flying.
The realization is often unspoken, and we can just make eye contact and know that the other is feeling it. Or just say something like "I am very happy right now."
The other constant is us watching the weather and the elements around us. The sky, the wind, the clouds, the swell. And the direction of
everything. We're now completely tuned in to which way things are moving – their nuances and mood swings, and what they seem to feel.
In the first few days of the trip, we had a trade wind. 10-15 knots, from behind us, clear, blue, cloudless skies and star-filled nights. There wasn't much to discuss about the weather beyond acknowledging and appreciating it. There was little interpretation, little ambiguity.
But now we're in a multi-dimensional video game, with a plethora of variables simultaneously at play.
07h14: Just put in the fishing lines.
07h30: Fact of the Day #1
It's 5km deep here.
5km.
Fact of the Day #2
We are now halfway through our Madelines supply
Fact of the Day #3
Something that wasn't in the brochure is that they have a lot of rainbows in this place. There's one out in front of us right now.
Fact of the Day #4 Rob sleeps with a pillow on his head.
8.35am: The wind just came back after a very, very, very, very frustrating hour of near total calm. Patently obvious how someone could go completely bonkers if stuck in the doldrums.
Another rainbow ahead of us.
09h31: PCL
Post-Cloud Lull
09h30: Lost a fish on my side – total bird's nest on my reel.
10h48: First flying fish sighting
11h48: Rob caught another fish. Same model as the previous ones, and same size. We're going to eat it for lunch. Rob's currently filletin git.
…I mean, filleting it.
12h30: Just had our best lunch of the trip.
Confirmed by the entire crew. Fresh Atlantic catch
of day. Highly recommended.
Light wind and for the first time, A FLAT OCEAN.
2-5pm: I took the opportunity of a flat sea to
sleep, read and write.
Rob fixed stuff.
5.30pm: Motored for half an hour to charge the
batteries.
6.22pm: Potential MCS
Melon Crisis Situation.
It appears that our single melon might be over-ripe. A decision was taken to refrigerate it overnight and test it in the morning.
18h43: Some swearing coming from the aft Officer Quarters and Navigation Deck where Senior First Officer Newman is attempting the download the weather.
18h47: Interesting Observation for the Day:
Today is the first day of the trip that we are not preoccupied by sailing because the conditions are so chill. Accordingly, we are snacking all day. Both of us constantly rummaging for things to eat.
19h30: Gorgeous warm evening – big moon right behind us. Rob's gone to bed. I'm on first watch.
Wind speed 12 knots. Our speed over ground 7 knots. Fast and comfy.
———-
Day : 08 Cruisin'
Monday 17 January 2022
Time of readings: 13h30
Lat: 23, 12.3N
Long: 29, 33.1W
Wind speed: 8.7 knots
Wind direction: NW
Distance travelled (miles): 960
Sea State: 2 (swell), 0.5 (chop)
Course over ground (magnetic): 265
Interossiter manifold setting: 14
Gimbled decoagulation coefficient: 672
Emerged to find Rob on deck.
Stunning day
9.5 knots wind.
Boat-speed 5.6 knots.
Not much to report.
We're both exhausted from yesterday.
So now we're just sailing along, chatting and waiting for fish.
Lots got soaked inside the boat yesterday. Now clothes and cushions and shoes are drying on the deck.
Very uneventful day.
We changed all the clocks on the electronics back by 2 hrs.
A full moon has risen.
Rob caught 2 fish. Small things that look like mini Tuna. Perhaps Bonito. Red meat. No scales.
One being fried up shortly. Delicious!
A good way to end a nice calm day.
Sent from Iridium Mail & Web.
———-
Day : 7 – Wind, Waves, Squalls – Busiest Day So
Far
16 January 2022
Time of readings: 11h28
Lat: 24, 19.7N
Long: 27, 15.6W
Wind speed: 17
Wind direction: 250 (WSW)
Distance travelled (miles): 780
Sea State: 4m (swell), 1.5m (chop)
Course over ground (magnetic): 310
Pinsnoffian coefficient: 0.45
Quadrangulated Ontometer reading: 631
Comment: Heavy seas, lots of wind, an exhausting day, finally tacked away from low
From midnight to 1am we were using the windvane for steering and every time there was a wind shift, which was often, the alarm went off, which was extremely annoying. Decent wind around 12kts, but shifting all the time.
3.30am: on watch
Really warm.
16.5 knots of wind We're flying along
Heading 312 (m)
Small, self-contained downpours (squalls) to the
SW and in front of us.
Now gusting up to 18.
We're in the squall – very windy and wet.
4.10am: We're through the squall and now the wind has completely died. We're pretty much standing still and the sails are flip-flopping and over the place, and the rigging is grunting and creaking like a captured beast.
It's extremely bright tonight. Might be full moon.
Lots of clouds though.
4.25am: Ok, now were actually going backwards.
4.32am: The wind is back. 20 knots. Hooray!
4.52am: The moon has appeared, casting a floodlit, bright silver patch on the water half a mile in front of us – as if coaxing us onwards.
5.30am: Now it's blowing hard. 19 knots and we're going straight into big swell. We sail uphill and then downhill. It's been too noisy down below to sleep, so I'm up on deck with Rob.
6.45am: Still blowing
Huge moon right in front of us, sinking into the clouds on the horizon.
Massive swell and behind us it's getting lighter.
We are both extremely happy.
This big swell is exhilarating.
I just said to Rob: "I ca guarantee there's not a single person we know who's having more fun that us right now."
He laughed and replied: "I bet every single one of those people would rather be where they are right now."
09h32: 16.5 knots
Heading: 300 Rob just put a second reef in the main – scrambling over the spray-covered deck. Using the harness so he's attached to the boat. Huge swell.
Quote when he got back to the shelter of the aft cockpit: "The Rock and I are in tune with each other!"
Indeed they are.
The swell is massive. 4-5m we estimate.
And finally, at 11h45, we tack!
New bearing: 25-260.
15-20 knots.
I'm at the helm, Rob is tweaking the sails and the
rigging.
We're flying.
At last we have turned away from the low and now were heading straight for St Maarten!
Boom! We're hopefully heading the trades and into the land of milk & honey!
13h00pm: Very fast
Huge swells
Multiple squalls
Very bumpy.
Eggs #13-21 slid off the kitchen counter and got destroyed in the melee. A big setback.
Lots of water (and eggs) in boat
Bilge pump not working
Rob bailing with bucket for over 30 mins
#totalhero
14h00
Hot meal (in which eggs #22, 23 and 24 were consumed)
14h30
Wind calmer – 12 knots
On goes autopilot
Nap time: Rob inside, me outside
18h30
Just caught our first fish. A Mahi Mahi.
But lost it right at the boat, just as we were trying to gaff it.
Then Rob's line hooked one – pulled the lure off.
Then the same thing again with another one on my side. Snapped the swivel and we lost it.
At sunset lots of squalls all over the place. Moving at different speeds. They are very much like Kalahari storms – seem to develop out of nowhere – all over the place, self-contained and dumping a lot of rain on a small area – totally beautiful.
Navigating through them is like being in a TV game. As you near them, the wind really picks up.
The first one we entered saw the wind jump from 15 to 30 in a matter of minutes. We feel we can read them better at this stage as we've gone through a few. They are like temperamental children.
Lots developing to the north us.
And now lightning in some of them.
Lightning at sea is dangerous, not to us if were inside, but it can take out all our electronics.
So Rob has a trick. He puts all the removable electronics (like handheld gps and sat phone) in the oven. It's like a Faraday's Cage inside a Faraday's Cage he explains.
More squalls. Bumpy. Lots of wind.
I haven't slept for 36 hrs.
By 9pm we were both feeling queasy so took pills.
Quick pasta dinner. Wind and sea state calming down and I wasn't feeling great so went to bed.
Slept for 10 hours – fantastic – at the bow.
Rob did all the work till the next morning.
Navigating and adjusting and on watch from his bed. All the below-deck instruments are right nexto his bed for when sails solo.
Sent from Iridium Mail & Web.
———–
Day 6
Sat 15 January 2022
Time of readings: 13h30 (GMT)
Lat: 24, 21.1
Long: 25, 50.8
Wind speed: 7.0
Wind direction: 260 (due west)
Distance travelled (miles): 670
Sea State: 0.5 (swell), 0.0 (chop)
Course over ground (magnetic): 313
Ended my morning shift at 8.
Still motoring.
Rob killed the engine at 11.
For the next half hour we put in a number of tacks
but we couldn't get a decent heading – the wind is
still all over the place.
The sun is out. Scattered cumulus clouds and the
ocean is an amazing blue-purple, a bit like
petroleum. It's a color I have not ever really seen
before. It's approximately 2km deep here.
We're both in shorts & t-shirts.
I did some laundry and there are now my socks
and underpants hanging all over the winches.
Which makes tacking quite amusing.
Quote of the day:
"This place looks like a Chinese laundromat. Not
that I even know what a Chinese laundromat
looks like."
– RJ Newman (Lord Admiral)
Today is the day we catch a fish – we both
believe.
Plus I'm going to introduce Rob to Jeremy Loops,
the SA musician, who has also crossed the
Atlantic. And my two favorite songs of his have
sailing metaphors in them: Down South & The
Shore. You should give them a listen.
Sat for a couple of hours on deck chatting.
Raised the SA flag off the solar arch and now it's
happily flying behind us.
It's big, the width of a kikoy at least.
Makes me very happy every time I see it.
Weird autopilot stuff happening so Rob rebooted
it. Seems to have done the trick. His hero quotient
has just gone up to 34.7 (using the Grodzinski
Multiplier).
We brought 36 eggs with us.
For lunch we are having eggs numbers 10, 11, 12,
and 13.
1hr later: They were delicious.
The wind has dropped.
Another quote of the day: "Oh my goodness,
we're going backwards!"
The upside is I am managing to paint. Not 100%
stable but working.
Every 2 days I go on my phone to text Lisa. When I
turn it on, it thinks I'm driving.
I have to press the button "I am not driving".
Hilarious.
I'm now below deck typing this, as it is very calm.
Rob is chasing clouds. He's discovered that under
the big cumulus clouds there is wind. So he heads
for them and then boom!, suddenly were flying
along.
Right now it's 3pm GMT, which is probably 4pm
local time.
Rob threw an avo skin over the side, and I
watched it sink. Will it reach the bottom 2km
down, or will some creature munch it en route
and wonder for the rest of its fishy life what the
heck it was?
3.22 pm: Rob just put the engine on again.
I did some painting. Not flat enough to do
anything detailed so I'm just prepping a bunch of
boards for when we're back on terra firma. Or if
we have a no-wind day.
Lunch was Cup-o-Noodles avec gratinisse du
Languedoc con una sprinklage de la costa de la
sierra de la playa luna-grafinette. Totally delicious.
Then I did some more painting.
6.22pm: Both on deck looking for clouds.
Some rain ahead which hopefully will bring some
wind.
We are going to start running out of fresh things
soon.
We are out of:
Red apples
Persimons
We have 1 green apple left.
I think we might start numbering things, like:
Eggs
Potatoes
Onions
Lemons
Just for fun.
Just before sunset we were treated to a
spectacular dolphin show. They first appeared on
the port side and then shot to the bow, where
they delighted us for the next 5 minutes. Approx 7
of them, including two babies. They formation
ducked and dived and jumped and danced in our
bow wave. We whooped with joy. Smaller than
the previous ones, and white and speckled
underneath.
The sun has set.
Gorgeous sky.
Weird little rain storms messing with us.
We just stopped dead still for the first time on the
trip.
3 minutes later we're flying along again.
No fish today.
Dinner was congealed rice and a weird salad
which included cabbage, carrot, olives and
beetroot.
While eating in dead silence Rob asked:
"If your friends came to your house and you fed
them this, what would they say?"
Watches:
Rob: 9.30-11.30pm
11.30pm-1.00am: Ralph
Rob: 1.00 – 3.00am
3.00 – 5.00am: Ralph
Then after that it got all messy
I didn't sleep at all last night. While Rob was on
watch I lay in my bunk and tried to sleep –
without success.
Sent from Iridium Mail & Web.
———-
Day 5: Rain Showers
Friday 14 January 2022
Time of readings: 17h41
Lat: 24, 40.2N
Long: 24, 39.4W
Wind speed: 4.6 knots
Wind direction: SSW (208 degrees)
Distance travelled (n miles): 528
Sea State: 1m (swell), 0.5 (chop)
Course over ground (magnetic): 302
I did the 4.30-6.30 watch, but then decided to just carry on. It
was too rough and bumpy for me to sleep below deck, and
the aft cockpit is pretty comfortable in these conditions. Plus
Rob was sleeping nicely. So I carried on till 8.30am.
Rob took over and I slept till 11.
It was very bumpy, now that we were heading
upwind. The boat is now very much not
comfortable – it's wetter and we're both feeling a
little queasy. We both took a sea sick pill.
12h30 (GMT)
We're both on deck – we can clearly see the front
to the NW, and in front of us. It looks like a lot of rain.
It's still pretty bumpy. I am relieved that my tea
flask from this morning's watch is still full and
warm. The thought of going below deck right now
is not very pleasant. It's warm, damp and bumpy
down there – to be avoided.
Quote of the day: "If we can get to the back of the
front we'll be doing well."
– RJ Newman (skipper)
As we entered the rain showers (on the front) we
put the engine on (a. to recharge the batteries
and b. because we didn't know what might be
inside these squalls). We chugged nicely through
two of them, one of which had some lovely strong
wind in it.
After that second squall the sun came out, the
wind dropped and stabilised and the boat became
more comfy. I went down for a nap.
Rob is currently making early dinner.
Pasta a la Floffison du Moulin Rouge, avec garlic
du saison hors saison en hiver, con sauce du
tomate de la Fortesque-Poissonnerie du Cotignac-
Merillion.
Should be delicious.
We just removed one reef from the main, and
then put in a tack. I believe the first one of the
trip. 5 days in.
18h19 GMT and we are now on a starboard tack
heading 200 degrees (course over ground)
180 degrees is due south and
270 degrees is due west
So we're heading SSW
Actually, transpires that wind shift was not in our
favor as we're now heading 183, which is pretty-
much due south, which is not what we want to be
doing, so we're going to put in another tack.
There are 40 ARC yachts somewhere to the south
of us. The ARC is a so-called rally which means the
boats all leave together, but are not racing. They're just cruising across with each other for
safety. This lets first-timers do the crossing with a
bunch of other boats, plus the organisers throw in
some extra safety features. The ARC fleet was
moored all around us in the Gran Canaria marina,
and they left the day before we did, i.e. they left
on Sunday.
They immediately headed south towards Cape
Verde before swinging to the west.
We're doing a rough hypotenuse trajectory to join
their westbound course.
There is a chance, with Rob's masterful navigation
and weather instincts that we might hit the target
trajectory ahead of them. We'll know in the next
2-3 days.
When we put in our second tack, Rob noticed the
main winch felt odd. So he just took it apart and
fixed it. Nice to have a mechanical engineer on
board.
Jokes aside, it's very reassuring to have Rob as
Lord Admiral. He has rebuilt this entire boat, from
rigging to mechanics to electronics to plumbing,
and everything in between.
As evening fell, the wind dropped and was all over
the place. No matter what we tried we couldn't
sail in a decent direction.
Concerns about getting trapped in the no-wind
zone below us so an executive decision was taken
to put the engine on.
We motored for about 12 hours from around
10pm.
Watches:
7-9pm: Ralph
9pm-12am: Rob
12-2am: Ralph
2-4am: Rob
4-8am: Ralph
8-11am: Rob
Sent from Iridium Mail & Web.
——-
Day 4: From Broad Reach to Beam Reach
Thursday 13 January 2022
Time of readings: 1pm
Lat: 25, 50.3 N
Long: 21,46.1 W
Wind speed: 15.2
Wind direction: 124 degrees (SE)
Distance travelled (miles): 408
Sea State: (swell), (chop) 2.0, 0.5
Course over ground (magnetic): 235 degrees
On my last watch last night I could see a glow on the horizon
straight in front of us, rather like a ghost ship. Nothing was
coming up on the AIS (the Automatic Identification System),
which is below deck at the navigation table.
This device lets us know of any other AIS-enabled vessels are
in the area. Likewise, it alerts them to our presence.
At first I couldn't tell whether my eyes were tricking me,
because the instruments on board create visual noise. But
over time the glow seemed to become increasingly stronger,
Then it appeared on the AIS. A fishing ship.
Rob passed it during his watch.
Rob woke me at 9.15 (he did an extended sunrise watch).
It was hard getting up.
Again, for the third day in a row, what looks like perfect
conditions.
Cloudless sky – the small cumulus clouds of yesterday have
all but disappeared.
A slightly bigger, choppier sea, ad more wind.
Rob slept till 11 and I sat alone in the cockpit, thinking,
watching and a little typing.
The wind picked up and we had a few gusts up to 19.5.
As usual, Red Rock IV is comfortable and loving the higher
wind. Today is day 4 and I still have not been splashed by a
drop of Atlantic ocean.
I'm wearing long pants, a t-short and a light hoodie.
We're still using GMT on all our devices.
At around 1pm we had breakfast – cereal.
I'm drinking tea all day in my flask.
Rob also has a few cups every day.
Rooibos!
The clouds on the horizon suggest something happening up
ahead. Looks like we're heading into the southern end of the
Low, which is rotating counter-clockwise. So soon we might
have the wind shifting from behind us (SE), to from the side
(S) and then perhaps on our nose (from the W). If the latter
happens, we'll have to gybe southwards.
Lunch is now being made. Pasta a la Gravinoux avec pot-malouse con Giacometti
Benedictione avec Tutti Frutti al la Javanaise. Should be
delicious.
1 hr later: It was delicious. We found a great Spanish pasta
sauce called PISTO. Luckily we have several cans of it.
Perhaps more than several…
Post lunch we've been out in the rear cockpit chatting. I have
a feeling we'll be jabbering away up until we hit land. There is
lots to be discussed.
The wind is shifting further to the south. Given that we are
heading due west, it's now hitting us on the beam, i.e. on the
side of the boat. So the boat is finally listing to the side. It's
called a beam reach. Since we left, until this afternoon, we've
been on a broad reach, i.e. the wind from almost behind us.
Both lines have been out all day – but still nothing caught.
I've been thinking a lot about last night's ghost ship. The next
Dash book is percolating in my head.
Lunch was pasta.
Dinner was toasted cheese, and sauerkraut.
Another pod of dolphins, but this time 10m off our starboard
side, trailing us for a while.
Fishing: Our first big bite, whining reel and it took the lure
which was disappointing.
Sunset was at 18h58. Another spectacular one.
Because we are nearing the low pressure front, we put 2
reefs in the mainsail. As usual, Rob did all the hard work and I
just obeyed commands. For non-sailors, that means we made
the sail smaller. The leading-edge of the sail (i.e. the section
that runs along the mast) has eyes (holes) in it. To reef the
sail we lower the whole sail slightly, and attach a now lower
eye into a hook on the mast. The excess sail gets folded into a
bag on the boom.
I took the first watch: 8.30-10.30 GMT. Rob went to sleep.
Finally we are sailing properly.
We are close-hauled, which for any non-sailors means we're
heading into the wind and the sails are pulled tight and close
to the boat. This immediately makes everything tighter and
less flappy-floppy, and the boat starts listing over. But now it
feels like an arrow or a knife cutting across the surface.
We're on a port tack and finally there are splashes coming
over the deck.
When it gets wet, this is what we were:
Survival suit (waterproof overalls) with thick polo neck and
hoodie.
Lifejacket, which automatically inflates when it hits the
water. Harness – to attach us to the boat (so when were going
foredeck were attached to some lines running along the
deck)
PLB: GPS-enabled Personal locator beacon – once activated it
sends the wearers exact location to Falmouth Coast Guard in
the UK and also the US coastguard.
AIS-enabled beacon: If someone falls off the person on the
boat can use the AIS (Automatic Identification System) to find
them
Things are very different now on watch compared to the
previous nights. Its mesmerizing, not only because of the sky
and ocean, because of, physically, what the boat is now
doing. We're going at around 7 knots with around 15 knots of
wind, and it feels like Red Rock IV is in attack mode – a
fantastic feeling.
We're sailing, and the actual sailing is fantastic.
Watches as follows:
8.30-10.30pm: Ralph
10.30pm-12.30am: Rob
12.30-2.30am: Ralph
2.30-4.30am: Rob
4.30-8.30am: Ralph
Sent from Iridium Mail & Web.
———
Day 3: Wednesday 12 January 2022
Time of readings: 16h30
Lat: 26, 30.2N
Long: 19, 41.60W
Wind speed: 10.2
Wind direction: SSE
Distance travelled (miles): 301
Sea State: 1.5 (swell), 0.5 (chop)
Course over ground (magnetic): 265
I was on sunrise watch so I saw it come up. From the first sliver of gold till the whole thing was off the water took 110 seconds.
Far less dramatic than the sunset.
Today has been a perfect day at sea. Mama Ocean is overdelivering. Perfect wind and sea conditions, broad reach, fine company. Bliss.
I slept/napped most of the morning in my bed at the bow.
Gentle wind massaging me from the overhead hatch. The only adjective that comes to mind is luxurious.
The rest of the day was spent in the rear cockpit chatting and eating.
Both lines were out but no bites.
2 ships, both west-bound. One came quite close to us.
1 small black bird flying close to the surface. Looked like it was feeding.
The VHF radio is now silent. It can only receive and transmit for something like 8 miles, which is more-or-less to the horizon, depending on sea state and the weather. We keep it open on the emergency channel (16) and will only be used to communicate with passing traffic.
Lunch: Les Oeufs Scrambladine du Carcassonne avec pain d'Allemagne platiforique con tomate de Playa Escondido avec avocado du chateau du region passerelle d'parebrise.
(i.e. scrambled eggs on pumpernickel with tomatoes and avo).
We're ripping through our fresh supplies. Most of our avos have ripened.
Looks like we'll be out of perishables after a week.
Our current view of the weather:
The aim is to get pushed across by the Trade winds. This is a clockwise rotation around the Azores High. It's a big clockwise movement of wind between Europe and the bottom part of north America.
When it's working, if should give us 10-25 knots from behind. Nice, constant warm air pushing us over.
But currently there are a couple of low pressure systems to our NE. These are counter-clockwise, smaller (geographically), more intense rotations that can work against us, i.e. their lower part blows wind towards us, and also they kind of mess up the whole Trade wind thing.
So right now, we're entering a patch of messed-up, light, Trade wind zone caused by the pesky low pressure systems, far to the north of us.
We get weather updates every 12 hours, and they get uploaded into a screen chart.
The current 7-10 day plan is to head further south, zig zagging and improvising our way through the messy low-wind patches, till we reach a nice Trade section. If that works, our last 10 days should be a lovely broad reach to the Caribbean.
Rob went down for a nap at 5pm.
I sat on deck typing this.
Deeply interesting.
6.30-7.30 pm spent working out how to send these updates to Louise & Lisa.
I also spotted a freshly discarded, green, plastic bottle in the water. Must have been from one of the ships we saw earlier.
Dinner tonight is Potato a la Grassin du Boulogne du haute Perpignane.
With two salads:
[1] Cabbage de l'Atlantique midi.
[2] Tomato & avocado memflesseur-du-Grenadine avec red pepper du Chateau de
l'Ongostine de Mercredi.
The sunset was not great. There seems to be a layer of copper mist on the horizon,
swallowing up and browning the moon as it settled.
Tonight's watches:
9.30-11.30pm: Rob I unsuccessfully tried to sleep.
11.30pm-1.30am: Moi.
The wind dropped (11-12 knots) and quite choppy, so we were bumping around a lot. I
watched the sky and ocean for a while, then did some writing on my laptop (including this).
Bright moon and we were heading straight into it, so it was obscured by the sails
1.30-3.30: Rob
The ocean and sky are so beautiful tonight that both of us vaguely resent ending our
watches. After half an hour or so one almost seems to enter a trance. In a way it's like being
on a train. All you need to do is sit there and look out. The progress is ongoing. You're
heading to your destination irrespective of whether you're awake.
3.30-5.30: Moi
At around 4am the moon set.
5.30-9.15: Rob
Sunrise watch.
9.15-11.00: Moi
———-
Day 2: Leaving Land Behind Us
Time of readings: Noon
Lat: 27, 17.9N
Long: 17, 08.66W
Wind speed: 9.1
Wind direction: East (92 degrees)
Distance travelled (miles): 127.7
Sea State (swell): 04 metres
Course over ground: 227 degrees (magnetic)
Rob did the sunrise shift. He couldn't rouse me
despite several attempts. I arose to a gorgeous blue
sky and perfect sailing conditions again.
The business of our departure, and actually getting
out into open water distracted me from the reality
of what was happening here. Two large triangles of
canvas powering us across an open ocean. I'd
forgotten how beautifully this boat sails. 15 knots
on a broad reach is an absolute pleasure. It's almost
as if the boat begins to sing.
The water is a blue-blue, under a cloudless sky.
Shorts & t-shirt weather.
Obvious that it's going to be too bumpy to paint or
draw in ink. If lighter wind I might be able to sketch.
Rob has his kindle, but I have just one book: Moby
Dick. Assuming 24 days I'll have to limit myself to 30
pages per day.
Mid afternoon a pod of dolphins came by to check
out our lures. For 10-15 minutes they ducked and
danced around our bow. I've never seen such large,
healthy-looking dolphins. Quite elongated and the
larger ones all looked battle-scarred. Lots of
scratches on their backs. They reminded me very
much lions in the Kalahari – survival of the fittest.
One more large island up the north of us as the sun
went down.
A sunset like we've never seen. A golden orb that
looked like it was melting into the water, so a liquid
base around it as it settled. It almost like like some
kind of hot air balloon.
Burritos for dinner.
My shifts (GMT)
9pm-12am
3am-5am
7am-9am
We need to work out when to change our clocks.
We'll pass through 5 time-zones on the passage.
Rob is used to shifts at night, but I'm finding them
quite challenging. Hard to get out of bed, especially
for the 7am shift.
But once out on deck it hits you. Each time it feels
like a glorious gift. We steer/navigate from the aft
cockpit, so we have the full length of the boat in
front of us. The wind is E or SSE, so we're on a
broad reach, starry sky and everything feels right.
I'm using my playlist and tea as company.
Very few airplanes. Just two heading west, a several hours apart.
Last night, on my first watch, the wind kept shifting
further to the south, forcing towards the last island
of the Canaries.
I woke Rob and at 11h02 we put in a gybe, finally
sending us out into the open ocean. Our crossing
was now officially on. A fantastic feeling.
Sent from Iridium Mail & Web.
———-
Day 1: Monday 10 January 2022 (via Instagram)
Puerto Marina Gran Canaria
I'm about to sail across the Atlantic with my oldest friend Rob Newman. We co-founded the Johannesburg Pyromaniac Society in 1979. Since then we have both had illustrious careers. We're leaving the Canaries tomorrow (Monday 10th) and heading roughly for St. Maarten – should take around 25 days – just the two of us and a big wide ocean. We've been talking about this for the last 30 years, and Rob has finally made it happen. You can track our progress via my profile link. Hasta luego.